KORPORACJA VIP
FIRE PROTECTION WINDOW SYSTEM
The ASP 80 FIRE + system is designed for constructing fire-protection partitions with EI30 and EI60 fire resistance. It can be used both indoors and outdoors.
The supporting elements of the ASP 80 FIRE + system are also profiles with a thickness of 78 mm composed of two aluminum profiles and glass fiber reinforced polyamide break. The filling in the chambers is a mineral wool insert that protects the structure against the effects of high temperatures during a fire. Modern solutions allow the installation of two-chamber fireproof glass and allow achieving the heat transfer coefficient of the entire structure significantly below the requirements that have been in force since 2017. Non-transparent fillings consist of gypsum inserts in aluminum or steel sheet lining and provide adequate fire resistance.
An additional element preventing the spread of fire are bent sheets installed under glass that protect the glass against falling when exposed to high temperatures. The ASP 80 FIRE + system is suitable for use in public utility buildings.
FIRE-PROTECTION ASP 80 FIRE+
Uf from 1,5W/(m2K) THE BEST ON THE MARKET!
Mineral wool insert only in the middle chamber
Possibility of using a transparent and non-transparent filling
Width of profiles 78mm
The bent sheet under glass protecting the structure against the effects of high temperature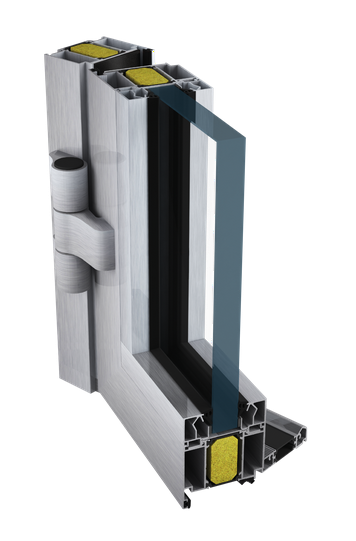 it is not necessary to use a fireproof glass
peripheral sealing of sashes and glazing
drop seal + frame sealing brush